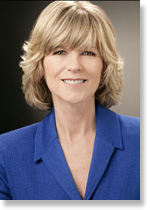 May L. McCarthy - Speaker, Author, Consultant, Contract Training
Featured Columnist for Creative Prosperity
Since 1982, May has co-founded and grown six successful companies in fashion retail, telecommunications, and healthcare IT with software and equipment for national and international hospital systems. And, she has worked for Fortune 500 companies like Johnson & Johnson and Boeing in sales and capital equipment purchasing, contracting, and barcode logistics design.
May is an angel investor, advisor to dozens of small and medium sized companies, and is on the boards of philanthropic, arts, and educational organizations. She is a guest university lecturer and speaker sharing successful business development strategies that make work more profitable and fun!
May has learned through successes, mistakes, and extreme challenges the importance of effective planning in advance to succeed in business and life. May uses her real world examples to illustrate the value in differentiating your business culture, products, services, and customer response to win the business!
May is passionate about helping companies and employees to learn to succeed and achieve all of the goals that they desire. Through workshops and her bestselling book, The Path to Wealth, she teaches others how to partner with their source of intuition and rely on the messages they receive to achieve more of their goals, dreams, and desires. She has shared her simple 7 step system with hundreds of people in workshops across the country and all have reported feeling more calm and focused, and have experienced more of the good things that they desire in work and in life.
For more about May's work visit: www.maylmccarthy.com
Click the cover to order May's book: